A Lot of Space for Hope: Interview with SP Armando Reyes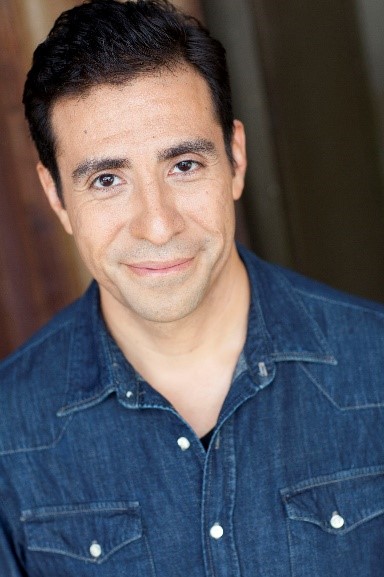 Interviewed by: Kerensa Peterson
Edited and Submitted by Marsha Harman, Rush Center for Clinical Skills and Simulation
Please tell our readers who you are and what schools you've worked for as an SP? My name is Armando Reyes. I've been with Northwestern from the beginning when I first started SP work. I do work at Rush University, as well. Those are the two main schools that I work at.SP work has been very limited. I've done two events so far since this whole thing started. I've been fortunate because I have other jobs that I juggle, as well. I was doing a lot of remote work beforehand, which has helped - well, I shouldn't say helped. I don't know. It's a strange new world now that we're living in.
What was it in the beginning that made you think, "I need to avoid this work for a while,"? The main things, of course, were just interactions with other people. The idea of actually going out was the one thing that really put a pause in everything for me, especially going to campus. I knew I could drive there if I needed to, but just going to a very densely populated area, like downtown, was something that I just did not feel comfortable doing. I also had this fear if my car were to break down - having to take public transportation and what that would be like - I just did not want to expose myself to that risk. Not so much the protocols that the various universities had in place or what was being recommended. That gave me some reassurance that I wouldn't be exposed too much. But I think just the idea of leaving my apartment and going to another physical space was - concerning for me.
Have you had other feelings that have come up during this time? One of the things I really enjoy about SP work, other than the work itself, [is its] direct impact on the education of these medical students. But the very social aspect of going to work, seeing a bunch of friendly faces that you've worked with for so long that was something I would always look forward to when I would go to work. It's weird now because I've only done it virtually so far. I wouldn't even know what that would feel like to go into the space again. Just seeing people behind masks (laughter), I don't know - I just want a handshake or be able to smile at people. We don't have that anymore. It causes some sadness for sure. I don't know if that will be coming back any time soon. I have a feeling it won't right now. I just have to get used to seeing people on screens right now.  I guess it should be enough right now, but I miss the social aspect of the work.
It's been a running theme in the conversations I've been having, too. Can you talk about why you feel SP work is important to you? For the most part, SPs are usually actors who are working in this [area]. For me, this field engages the human element of it, the ability to be vulnerable in front of other people, and the ability to connect with another person in a very real sense. We use that ability to try to transfer those tools over to the medical students, as well. How to be a human being in a room with a stranger and just allow yourself to connect with a person. Not even to say anything, but just to be there for the other person, especially in those really tough cases when we're teaching students how to break bad news or teach them how to give a patient the space to feel whatever emotions come up when some tragic news happens. I feel that it's a remarkable thing to be able to do that, to be able to impart that to somebody else. I do feel that if I didn't have opportunities as an actor, I would be gravitating more towards SP work. I feel it gives that sense of connection with other people. To be able to do that as a job, that's a great thing.
Have you been able to do any work as an actor during this time? Um, very few opportunities. I know people have been arranging a lot of readings. I have not participated in them myself. I've just been really busy with other work, just to be able to pay the bills right now. I have been able to do a couple of small commercial things. I just finished one, actually, last night. So, I was up until about 4 o'clock this morning. It was just a very basic commercial - no speaking involved inside of this empty supermarket. It was nice to be able to go back to a set and be able to interact with people. Little things. That's been the only real thing I've had since the beginning of this whole lockdown.
You mentioned that you're already doing remote work? Yeah, the other job I have is working with a city program as a consultant. We do work for a neighborhood revitalization on the Southside of the city. So, I'm the person who takes care of their database issues and collecting information, and things like that. Although I was doing a lot of one-on-one meetings with the groups we work with before this whole thing was happening. Now that's via Zoom right now, for the most part.
Is the work that you're involved in social justice oriented? Specifically, this program came about after the financial crisis of 2008. There was a big spike in foreclosures and homes were becoming vacant in large swaths of these areas. So, this program was created to try and address that - get people to purchase homes, you know, life-long residents in these areas who never thought they'd be able to buy their own homes. We were able to help them with everything from their down payment, to negotiating with the banks for them. Just trying to keep them in those areas so they would not need to move.
When I think about everything that has been going on in [Chicago] and especially how our black communities have been affected by the pandemic, how has that influenced your work? Our focus initially was on trying to keep families in their homes and get people to purchase homes. We partner with community organizations in each of the neighborhoods, and these organizations have been around for several years. They're connected to these areas. They've shifted everything to mask distribution, to providing PPE to families that haven't had access to these types of resources, providing meals, food banks, these sorts of things. A giant shift in refocusing on that. We work with Auburn Gresham - I don't know if you heard about the big mass shooting that happened in front of the funeral home a few weeks ago.  Things like that are just devastating. But I think a lot of people see a lot of negative news, and they don't often see the work that's being done in these neighborhoods. There's tremendous activism happening in these neighborhoods - organizations that have been around for several decades. They're all focused on keeping those neighborhoods intact. I think we don't really get to see that too often in Chicago, but it's there.
Earlier, you said that you're getting ready to go back to SP work. What has changed for you from the beginning to now that has made it possible for you to participate in this kind of work again? Initially, I had a lot of reservations about just leaving my apartment for the longest time, but I have a better grasp of what precautions I need to take in order to interact with other people or be in different environments now. I guess the ability to just learn about what is effective in terms of preventing contracting COVID, especially wearing masks. I think pretty much everyone is onboard here in the city.  Keeping distance has been something that people are now doing. That makes it feel more comfortable. I can be responsible for my safety and making sure I'm protected, but if everyone else is not doing that it just cancels that out.  I wouldn't be as cautious I think if I didn't have so much family here in the city that I see pretty often. I see my parents pretty much every weekend. They're in their seventies now. The last thing I want is to get them sick. So, I've tried to be very cautious.
If you had a group of SP Educators and Program Directors in the room, any advice you'd have for them? I have to say that I think the SP work right now is even more critical because now I feel that everyone will need to see a medical professional - often - for preventative care and to make sure we're getting the protections we need in order to combat this virus. And I know that the medical field is being overwhelmed right now, and I believe that the SP work is critical now in order to prepare those students as they go out into the field. They need to have that ability to connect to other people and to connect with themselves at times, too. To identify those feelings they're going through and have that outlet. I think SP work is even more critical now than before.
I don't know if you saw this Slate article about online SP encounters.  The article talks about verbalizing the medical exam, like, "Now I'm pressing on your upper right quadrant of your abdomen."  What do you think students gain or lose doing physical exam work in an online space? It's similar to live theatre.  The experience is always going to be different. It's a weird thing to try to do that online. Again, having a physical body to work with is one thing for them, to practice that, but also just to have that immediate feedback from the [SP]: whether they feel discomfort, how they read a person when they walk into the room. It's really, really difficult. I took one online acting class because an acting teacher asked me to participate so they could fine-tune how they would do this with students. You miss A LOT. You miss a lot without another person in the room. I would think it would be the same for both [the student and the SP]. But I guess you have to work with what you have and you have to adapt.
How do you think safety plays into our work at this time and the way that we do things? It goes back to that feeling of how much you want to risk, in terms of your exposure. (Sigh)  That's still an issue that I deal with right now with the SP work. I don't think I would feel comfortable until we have rapid testing available for everyone. For me, that would be the critical part of this whole thing. We don't have access to a vaccine at this point, but if we were to try and concentrate on the availability of testing, and having it done frequently, I think that would probably help to bring more people back into the field.
Is there anything else you'd like to share? I think there is a lot of space for hope right now. It does feel like a very weird time, but I think, in general, we're going to be coming out stronger in the end once this is all done. SP work will change for sure but we'll be much more conscious of how fragile everything is. And be able to incorporate that into the training, as well.
Armando Reyes resides in Chicago, IL. Interviewed August 20, 2020
Communications and Connections Committee Mission: "To bring high-quality reporting of current research, trends, techniques and information regarding SP methodology and other relevant industry articles to the attention of the membership through the web-based ASPE eNews blog."
Please provide comments, questions or suggestions about the ASPE eNews Blog here.
Share this post: