In The Spotlight: Rush University
Submitted By: Marsha Harman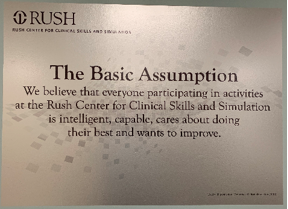 Full Center Name: Rush Center for Clinical Skills and Simulation
Center Location: Chicago, IL, USA
Year Opened: SP Program – 2018 / Hi-Fidelity Sim Center - 2014
Bragging Points:
We support learners from many graduate programs including the medical school, nursing school, PA and OT programs, as well as physicians and nurses. We also work with external community health programs.
Our integrated sim center offers the full continuum from high-fidelity to human (SP) simulation.
ACS Accreditation earned 2019. SSH Accreditation process is underway.
What makes your team work well?
We all value a supportive atmosphere at work – with each other, and creating an environment where the SPs can do their best work.
We are super organized, but we can go with the flow when programs or events change at the last minute.
There's an atmosphere of respect for everyone who comes through our doors.
Additional Information About Your Center
Our center fully supports professional development and expects our team to take advantage of learning and networking opportunities.
Learner Groups Supported
Medical/ Osteopathic Students
Medical Center/Health Care Employees
Nurses
Occupational Therapy
Pharmacy
Physical Therapy
Physician Assistants
Practicing Physicians
Residencies/GME
Respiratory Therapy
Social Work
Other (including beyond healthcare)
Is there a GTA/MUTA program?
Yes
Who staffs the GTA/MUTA program
Separate/External Program
 Center By the Numbers: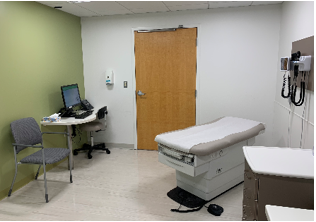 Classroom/Seminar Room: 5
Control Room: 5
Critical Care Room: 4
Debriefing Room: 4
Exam Room: 12
Lounge/Kitchen/SP Staging Room: 1
Monitoring Room: 1
Virtual Reality Space: 2
Other (describe): 1 Dedicated Exam Room for training SPs to assess Physical Exam Skills
Do the counseling/exam Rooms have 1-way mirrors? No
Recording System: CAE LearningSpace
Employees/Staff of Center or Program (excluding SP): 15
Staff Managing SP Program: 5
Number of SPs: 125
Please direct any questions about Rush Center for Clinical Skills and Simulation to Marsha Harman!
Want to see your center in the spotlight? Submit your own center spotlight!
The mission of the ASPE Center Spotlight is to connect simulation centers and promote interagency and interdisciplinary collaboration in SP and simulation methodology.
Share this post: