ASPE Emerging Leader of the Year Award for 2019
Submitted by: Dyan Colpo, Cleveland Clinic, Simulation and Advanced Skills Center

Margaret K. Liu, Ph.D., MBA, the University of Michigan School of Dentistry, Receives ASPE Emerging Leader of the Year Award for 2019
In recognition of the outstanding talent within the Association of Standardized Patient Educators, we annually honor an individual who has worked with human simulation methodology for fewer than seven years with the "Emerging Leader of the Year Award."
To be eligible for the award, the nominee must meet two of four requirements:
Be an active member of ASPE
Have been involved in SP education/training for less than seven (7) years
Have made significant contributions to the ASPE community at ASPE conferences
Have made contributions to an ASPE committee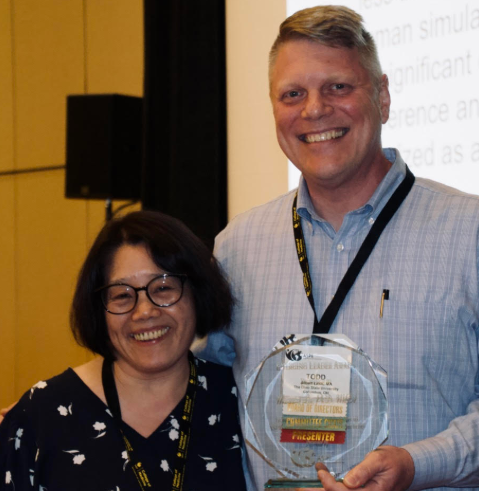 Margaret Liu was presented with the Emerging Leader of the Year Award at the ASPE annual conference in Orlando, Florida on June 9, 2019. Margaret has been in her position as Simulated Patient Instructor Program Director with the University of Michigan since August of 2012. She manages all aspects of the Dental School Simulated Patient Instructor (SPI) program. This includes day-to-day operations for 13 program cases, three OSCE exams, budget, recruitment and training of professional teams, establishing guideline protocols and assessment tools, and providing leadership on change projects within the community of the University of Michigan.
Margaret is a servant leader who enjoys bringing out the best in people and organizations. One of her enjoyments in life is seeing others grow, achieving beyond expectations. She has been an ASPE Committee member for more than 5 years and is described as "uncomplaining, humble and reliable," and as someone whose "passion for ASPE is evident through the time and energy given freely" throughout the year to consistently provide ASPE member benefits that uphold all aspects of the ASPE mission statement. Margaret is Chair of the Educational Resources Committee.  She not only is the "voice" of ASPE Webinars, she manages all aspects of webinar development and presentations, providing "consistency, reliability, the ability to solve problems, and the ability to track down and communicate with content presenters." She helps with the Virtual Library, and you may also find her at the onsite Bookstore at our annual ASPE conferences.
Congratulations, Margaret, our 2019 SP Emerging Leader of the Year!
Publications Committee Mission: "To bring high quality reporting of current research, trends, techniques and information regarding SP methodology and other relevant industry articles to the attention of the membership through the web-based ASPE eNews blog."
Please provide comments, questions or suggestions about the ASPE eNews Blog here.
Share this post: