Poster Winners: 2019 ASPE Conference
Submitted by: Michael Maury, UC San Diego

The 2019 poster presentation rounds took place on Sunday, June 9th from 5-6 PM and gave ASPE conference attendees a chance to discover what innovative approaches and research members have completed and/or are currently conducting. This year, there were 37 accepted submissions of which 34 posters were presented. From the field of 34, 2 posters were awarded a prize for Best Poster; one for Innovation & another for Research. During these poster rounds 14 judges were present to evaluate 5-6 posters each. Every poster presented was assessed by at least 2 different judges. Judges were assigned all Research posters or all Innovations posters and they were restricted from assessing posters that may be in a conflict of interest. The panel of judges used criteria based on Glassick criteria for scholarship (Glassick CE et al, San Francisco, CA: Jossey-Bass, 1997) and they strove for objectivity and fairness in their evaluations. If you are interested in becoming a judge at future ASPE Conferences please email Kevin Hobbs at [email protected].
Innovation posters display discussions of innovative approaches being used within a program, an activity, training or process and the criteria look for a process statement regarding how the next steps were explored and/or developed. Research posters display finalized research studies that have preliminary data completed and the criteria look for a methods statement regarding how the research was conducted. Details regarding the winning posters can be found below and also on the conference website along with all the other poster submissions. Congratulations to the winning posters and their presenters!
Winning Poster for INNOVATION:  eQuality: Integrating Gender Minority SPs into Medical Education to Practice Clinical Skills, Increase Comfort And Decrease Bias. Susan Sawning, Laura Weingartner, Emily Noonan, Stacie Steinbock, Carrie Bohnert, and Amy Holthouser, University of Louisville.
Introduction/Overview/Purpose:
Significant health disparities exist for gender minority (GM) individuals.1,2 One-third of transgender patients report recent negative experiences with providers,2and such biases contribute to staggering health disparities, including a 40% attempted suicide rate.2Intergroup contact can lessen prejudice toward GM people.3Our educational innovation incorporated GM individuals into SP encounters to increase student comfort, reduce bias, and improve patient-care competency.
Methodology & Methods:
Eleven GM individuals were recruited to serve as SPs along with four non-minority SPs. All SPs trained to portray a patient establishing primary care and to assess students. Following their last student encounter (n=137), all SPs were invited to participate in an optional focus-group-style debrief to discuss their experiences. Transcripts of the two debriefs with GM SPs or cisgender SPs were analyzed qualitatively using grounded theory.4
Results/Outcomes/Discussion:
All SPs described the encounter as meaningful experience and as "an honor" to represent their perspectives. New SPs felt the experience humanized the process of medical education and made them "better able to advocate for [themselves] in the real world." SPs emphasized the importance of physicians acknowledging identity before discussing other health issues and described how "it is critical to build a relationship" so GM patients will return to the provider. SPs described methods to avoid assumptions about gender identity in healthcare settings and noted how students desired to manage their case but often lacked sufficient clinical skills to confidently provide gender-affirming care. Comfort with sexual orientation clinical skills, however, suggested to the SPs that similar skills for gender identity could be learned. SPs ultimately "felt very hopeful about the future of trans care" after participating.
Conclusion:
Our experience demonstrates the importance of recruiting and incorporating GM individuals into medical education. Intergroup contact benefits the transgender community by providing insight into the complexities of healthcare training, and these positive experiences promote additional involvement in medical education from diverse communities. Students benefited through diverse interactions and rich feedback from actual community members.
Integrating GM community members into medical education is crucial for improving gender-affirming patient care. Medical schools should prioritize the long-term integration of GM SPs to provide students with repeated exposure to practice clinical skills, increase comfort.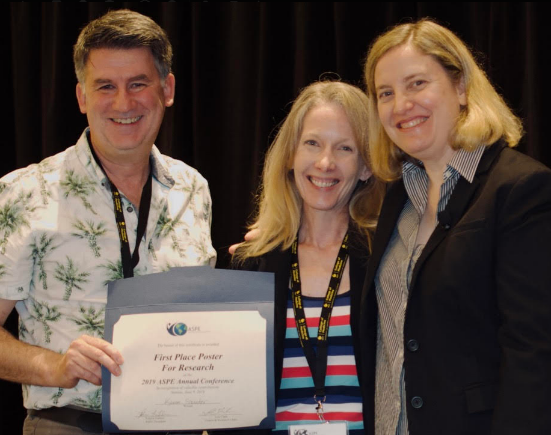 Winning Poster for RESEARCH: What Do Students Say when a Patient Discloses Opioid Use? Karen Szauter, Dawnelle Schatte, and Michael Miller, University of Texas Medical Branch.
Introduction/Overview/Purpose:
Opioid misuse, use of medication other than as directed or indicated, can lead to serious health consequences or escalating use (1). In the USA, 74% of opioid abusers acquire their opioids from a single doctor, friend, or relative (2). Educating healthcare providers about the appropriate use of opioids, and how to address this with patients, is essential to allow patients to achieve pain management goals while protecting others from improper or dangerous opioid consumption. This study assessed student responses to a patient voluntarily describing opioid misuse.
Methodology & Methods:
As part of our 2018 senior medical students' clinical skills assessment, we modified an existing scenario to include opioid misuse. The SPs, portraying a middle-aged woman with back pain, were trained to disclose use of a friend's Vicodin in response to any question about what she had tried to relieve the pain. The patient adds that while the Vicodin helped the pain, she did not like the sedating side effect. Video-recordings of the case were reviewed and student responses to the patient statement were transcribed. We analyzed when a comment was made (immediately or later in the encounter) and what was said (further questioning for clarification or specific patient counseling). IRB approval for this work was obtained.
Results/Outcomes/Discussion:
We reviewed 111 video recordings; SPs appropriately presented Vicodin use in 110. Thirty-nine students (35.5%) made no follow-up comment, 37 students (33.6%) followed with a clarifying comment (questions about number of pills used, when last used, etc.), and 38 students (34.5%) provided some type of counseling or education ("I recommend you not take other people's medication because…"). Only 23 students (20.9%) made any direct educating comment about using a non-prescribed opioid ("these medications are highly addictive").
Conclusion:
Our findings were not anticipated given our recent addition of an educational module and reflective writing requirement on discussing substance use during the third-year clerkships (3). We are continuing to refine our curriculum to enhance both the provision of information on opioid use (therapeutic as well as misuse) and to identify opportunities for students to observe role modeling and to practice these critical discussions with patients.
Publications Committee Mission: "To bring high quality reporting of current research, trends, techniques and information regarding SP methodology and other relevant industry articles to the attention of the membership through the web-based ASPE eNews blog."
Please provide comments, questions or suggestions about the ASPE eNews Blog here.
Share this post: