In The Spotlight: Elon University
Submitted By: Nita Skillman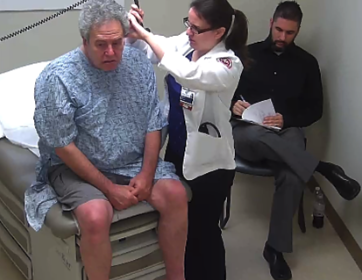 Full Center Name: School of Health Sciences
Center Location: Elon, NC 27244
Year Opened: 2012
Center Mission Statement: To promote engaged learning through the incorporation, evaluation, and subsequent improvement of C& SP base teaching and student evaluation activities within the SoHS.
Bragging Points:
Small but mighty- We serve two full-time medical programs and have branched out to several other undergrad departments.
Our focus is patient centered communication. Our SPs are the voice patients and take pride in that.
We are always looking for ways to increase diversity among our SPs and our cases.
What makes your team work well?
We are a family and work together to achieve the best possible experience for our learners.
Learner Groups Supported
Physical Therapy
Physician Assistants
Beyond Healthcare
Is there a GTA/MUTA program?
No
Center Name By the Numbers:
Classroom/Seminar Room: 6
Control Room: 3
Critical Care Room: 1
Debriefing Room: 6
Exam Room: 9
Lounge/Kitchen/SP Staging Room: 2
We also have two large physical therapy practice labs.
Do the counseling/exam Rooms have 1-way mirrors? No
Recording System: CAE LearningSpace
Employees/Staff of Center or Program (excluding SP): 1
Staff Managing SP Program: 1
Number of SPs: 30
Total SP Hours Worked in One Year: 1500
Please direct any questions about the Elon University School of Health Sciences center to Nita Skillman!
Want to see your center in the spotlight? Submit your own center spotlight!
The mission of the ASPE Center Spotlight is to connect simulation centers and promote interagency and interdisciplinary collaboration in SP and simulation methodology.
Share this post: